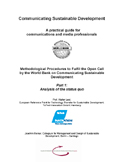 Autor/Herausgeber: Prof. Walter Leal, Dr. Joachim Borner
Communicating Sustainable Development A practical guide for communications and media professionals
Buch
A practical guide for communications and media professionals
Part 1: Analysis of the status quo
This report addresses the question of the needs seen by journalists and other media professionals in respect of [communicating] sustainable development.
Part 2: Mass Media and Sustainability
This report aims to analyse the current links between mass media and sustainability, focusing upon the main needs of journalists from developed and developing countries and how these needs can be addressed. It also contains some guidelines on how successful (and otherwise) some experiences have been.
Part 3: Communicating Sustainability
This report aims to raise some key issues that communication professionals need to be aware of to maximise the effectiveness of their strategies when dealing with the mass media during the planning and implementation of sustainable development communication initiatives.
Part 4: The role of the media in pursuing sustainable development goals and results
The mass media have become an important influence in the development and implementation of policy, especially policy that impacts on society as a whole. The mass media have become one of the main stakeholders for sustainable development.
Part 5: Guidelines with an Overview on Successful and Unsuccessful Experiences on Communicating Sustainable Development Issues
Part 6: Case Studies Diversification of communication forms for distribution, agenda setting and the establishment of sustainable development in societal communication
The study is based on a combination of theoretical reflections, an analysis of communication campaigns and "controlling" and reflective advising sessions with experts.
Part 7: Organisations
Professional Associations, Related research, Education, Media in sustainability, Clearinghouses, List Of International Groups, Regional and Country Groups , Regional NGOS in the communication sector
Erscheinungsjahr: 2005
Verlag, Ort: Berlin
Bestellung
Hardcopy & CD (best practise)
35,00 EUR incl. MwSt zzgl. Versandkosten
Per Mail: info@kmgne.de